New spaces and services for our Community
The WTCB has begun a transformation process to offer our Community more common spaces. These new services, which are part of the first stage of an improvement project, will come into operation in 2021, making us the best business park in Barcelona.
All these spaces are designed to offer an experience that goes beyond mere use, so architectonically they will present an impeccable image with all the imaginable details.
In addition, these spaces will be easily expandable, so that the initial allocation can be increased in the future, if needed.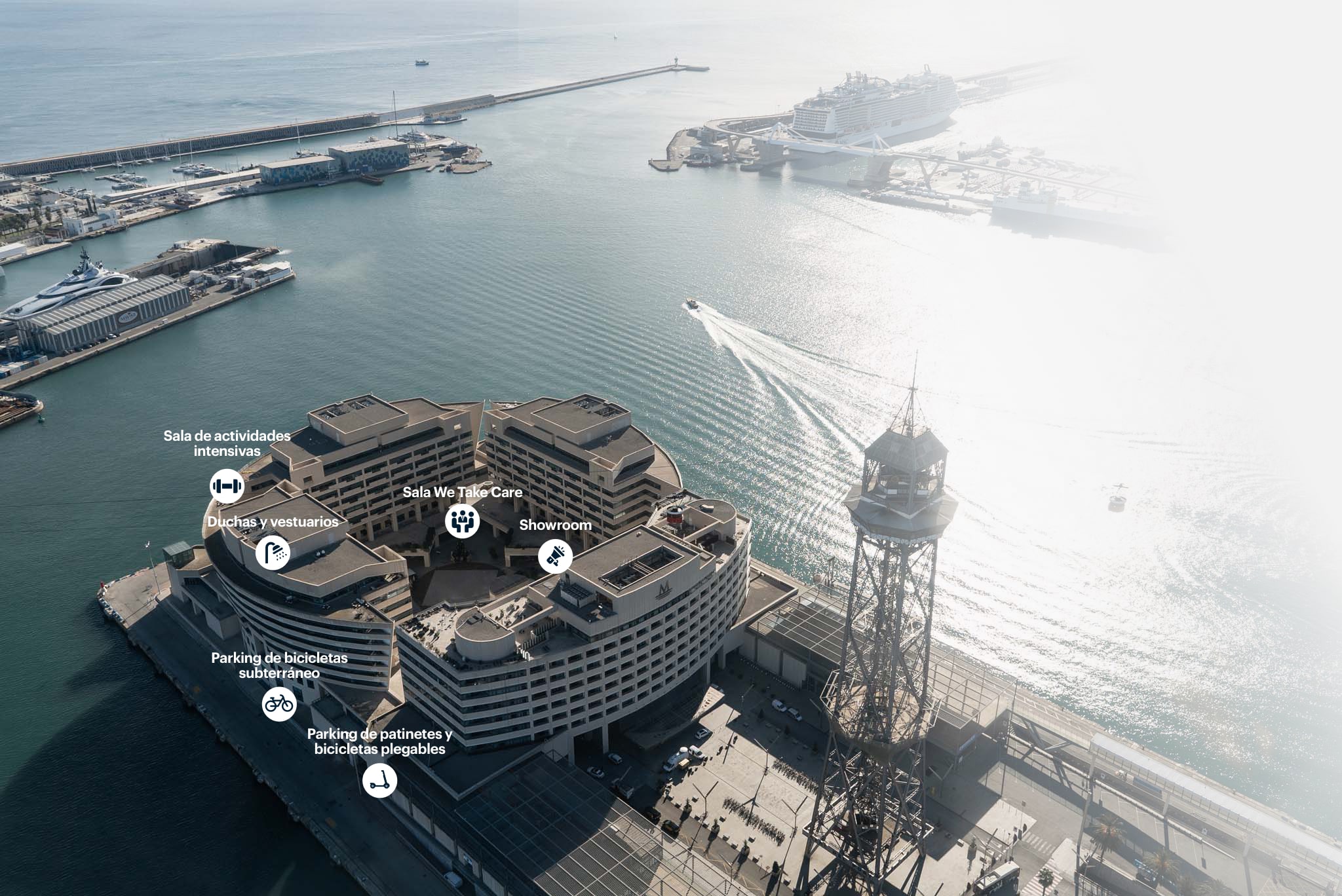 In this space we will be explaining first-hand what new services will be available after the improvement project. If you would like a 3D experience and want our Community Manager to share all the details with you, please contact us; we can organise small group visits.
Once the new spaces are up and running, this room will become a pop-up store that will temporarily host local retailers that always work with sustainability or CSR in mind.
If you have your own brand or are looking for a place to present your products, write to us. We will help you gain greater visibility through our showroom.
Parking for scooters and folding bicycles
In addition to the underground bicycle parking area, WTC Barcelona will have a space for scooters and folding bicycles, with electric charging points.
This secured parking area will be for WTC Barcelona employees only and will be located at the North entrance, facilitating both sustainable mobility and entry into the building.
We are expanding the WTCB Fitness Club with this space where several additional instructor-led activities will be held.
It will also allow us to offer sporting, mind-body, and dance activities within the programme of open and free-of-charge activities that WTC Barcelona offers to all its employees.
This space will be located on the ground floor, between the East and North buildings.
This room will become the meeting point for our Community. It will be an inspiring space where you can relax, have an informal meeting, or enjoy a wide range of workshops, talks or exhibitions, free for all our employees.
You can sign up for all these activities on our website. This space will be located on the ground floor of the East Building.
Shall we connect?

Request access to the new spaces and services.
Before you click on 'Send', we invite you to find out how we process your data:
Data controller: WORLD TRADE CENTER BARCELONA SA.
Purpose: to manage access to the space you have chosen.
Authorisation: consent of the interested party.
Recipients: there are no transfers to third parties.
Rights: you are entitled to exercise your rights in the manner described in our Privacy Policy or to file a complaint with a supervisory authority.